¡Hola! Mediterranean Sea Country across the Strait of Gibraltar, Welcome to Spain!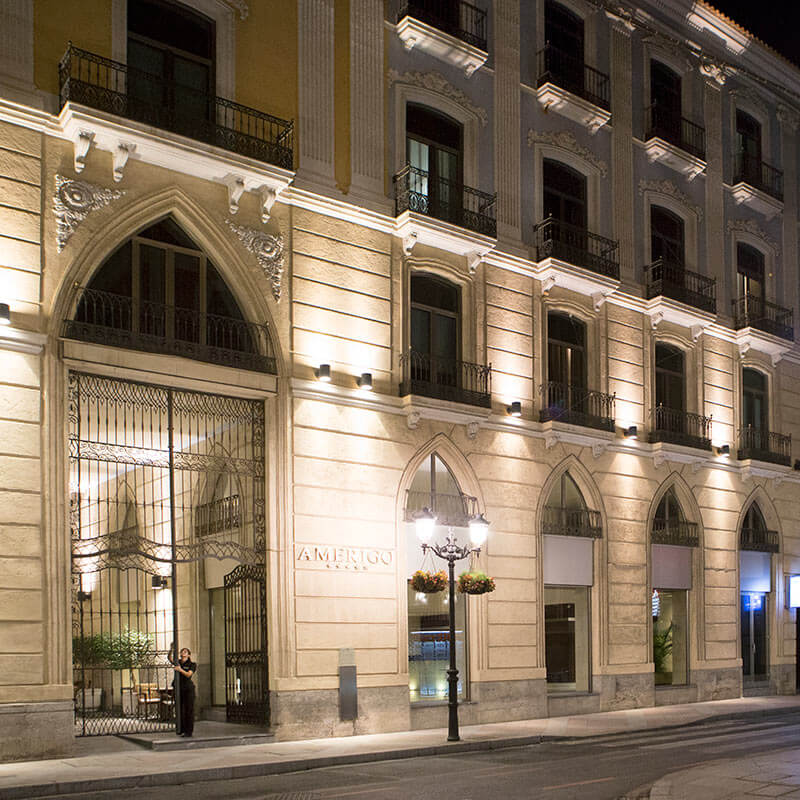 Hospes Amérigo
Old convent renovated in the purest Mediterranean style. Fully renovated Dominican convent which is characterized by the building's design and its avant-garde spaces with a traditional Mediterranean interior decoration. The hotel is located in the heart of Alicante's old town and offers stunning views of Santa Bárbara Castle from its rooftop.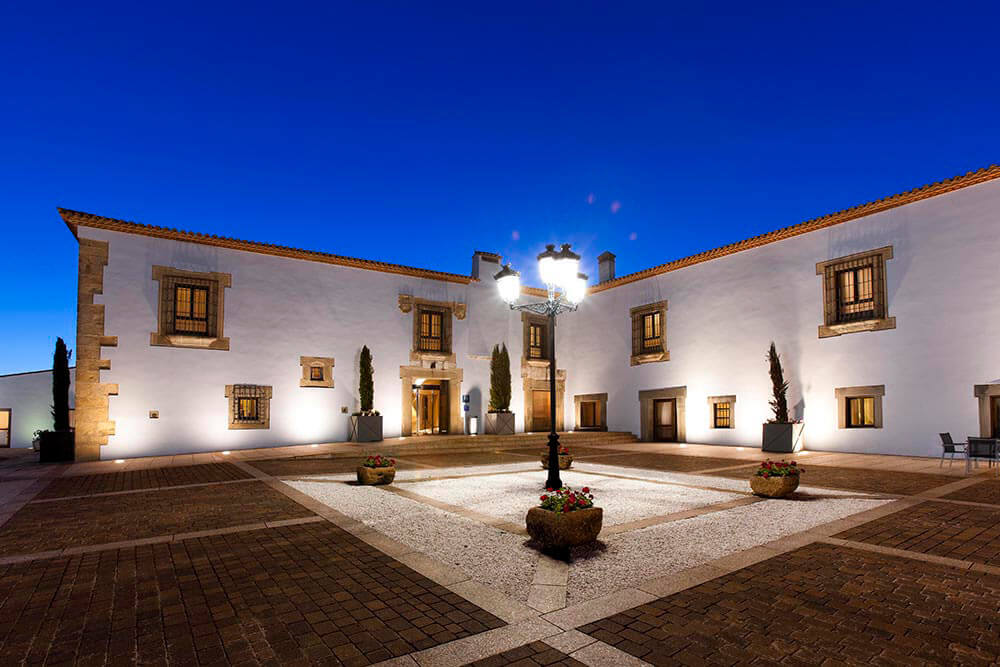 Hospes Palacio de Arenales & Spa
Hospes Palacio de Arenales dates back to the 17th century and was formally the holiday residence of a noble family. This 5-star hotel offers a wellness center and spa. Located just 3 km from the historic center of Cáceres, a UNESCO World Heritage site. The old summer residence of the Golfín family is located in a spectacular natural setting in the city of Cáceres, surrounded by hundreds of century-old olive trees and crowned by 81 stork nests.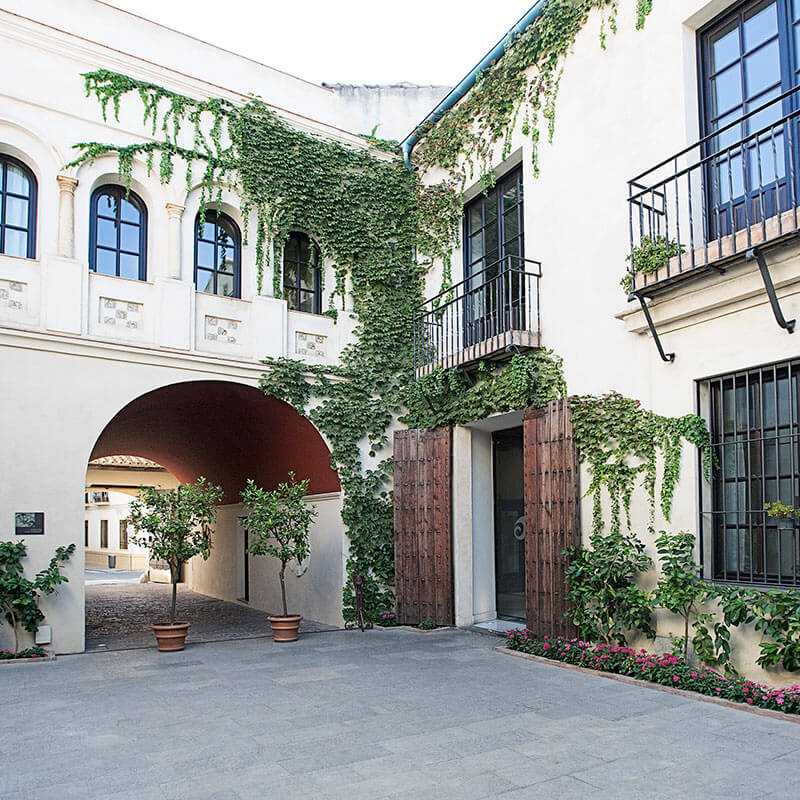 Hospes Palacio del Bailío
A palatial home with many centuries of history. This old manor was declared an Asset of Cultural Interest and includes remains of an impressive Roman villa from the 1st century AD under its restaurant. It is the only hotel with interior Roman baths and an outdoor swimming pool located in an oasis of fruit trees and aromatic plants.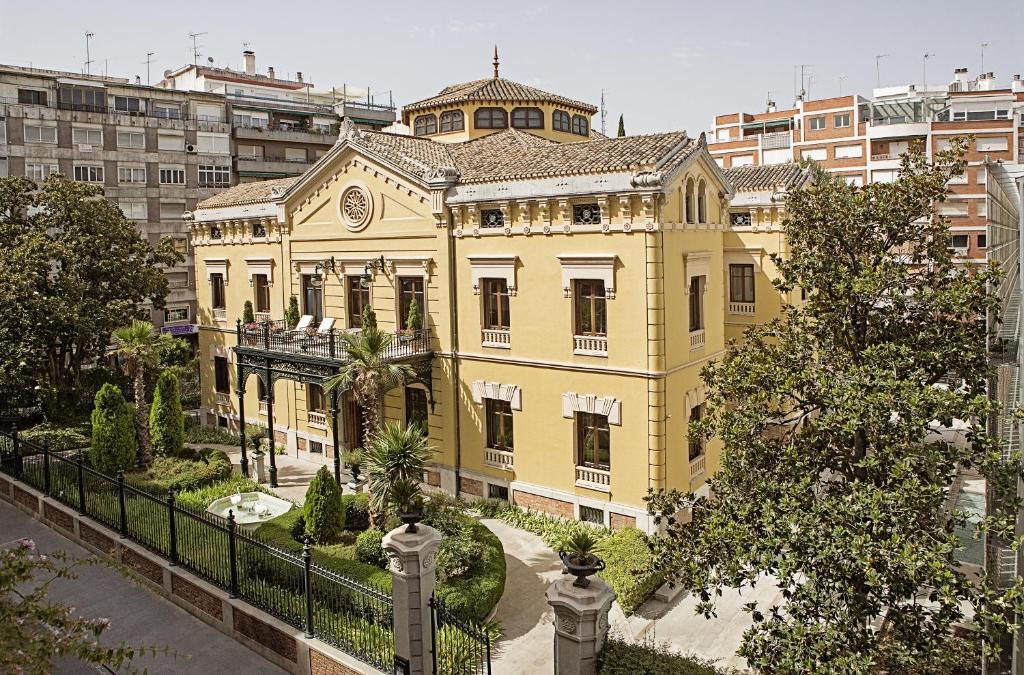 Hospes Palacio de los Patos
Tradition and avant-garde come together in beautiful harmony. Suggestive combination of two buildings with shared complicity: Los Patos Palace, an elegant reconversion of a 19th-century palace with classic and industrial architecture declared an Asset of Cultural Interest; and the newly constructed Alabastro Building, which combines depth and transparencies behind a majestic and subtle latticework.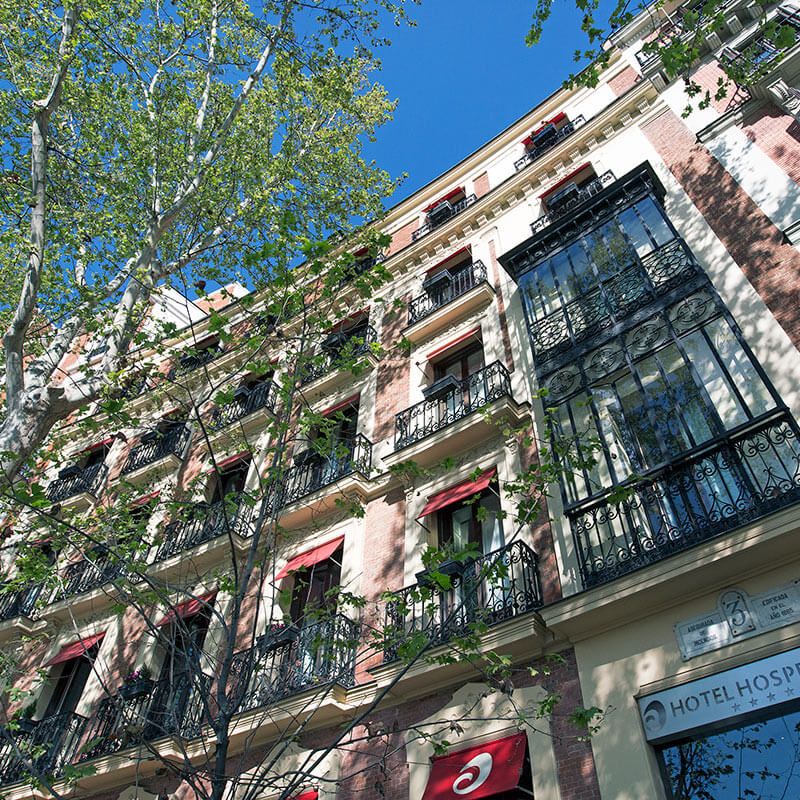 Hospes Puerta de Alcalá
Charisma and exclusivity in Madrid's most prestigious district Royal estate from the Late-Nineteenth century in the heart of the Spanish capital, in the Salamanca district, next to Puerta de Alcalá and opposite the inspiring park of El Retiro. This beautiful building designed by the architect José María de Aguilar in 1883 is home to a cozy combination of elegance, architecture, gastronomy, and revitalizing purity.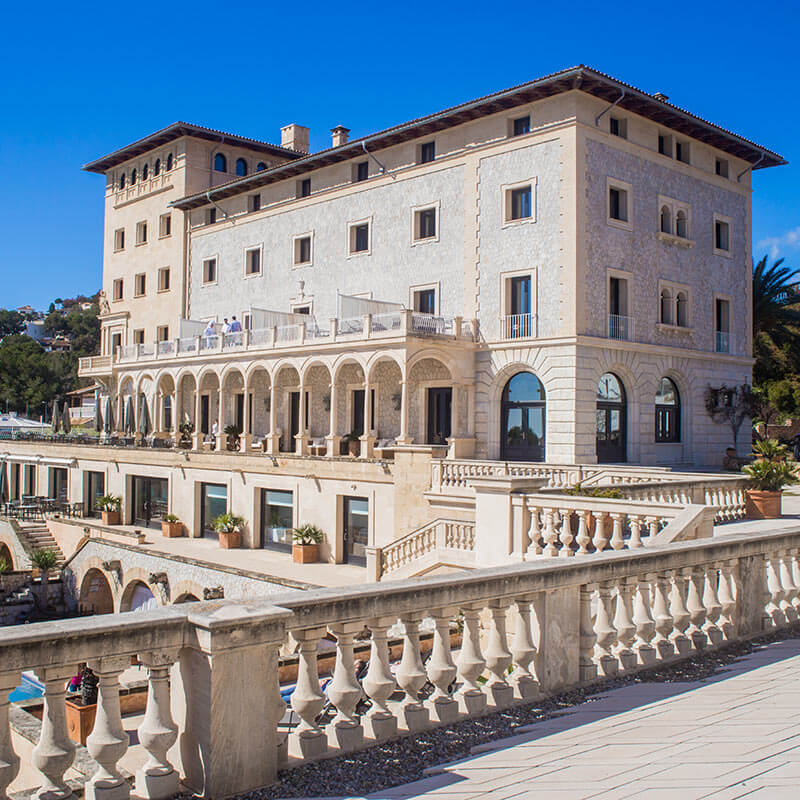 Hospes Maricel & Spa
Sky and sea in a privileged location in Majorca. The most emblematic hotel on the island since the 1950s enjoys a privileged location next to the sea, a unique environment with a special combination of stately architecture inspired by the sober styles of the 16th and 17th centuries which are represented in the palace building. On the other hand, the Natura Building embodies avant-garde Majorcan architecture, based on natural colors and fine construction materials.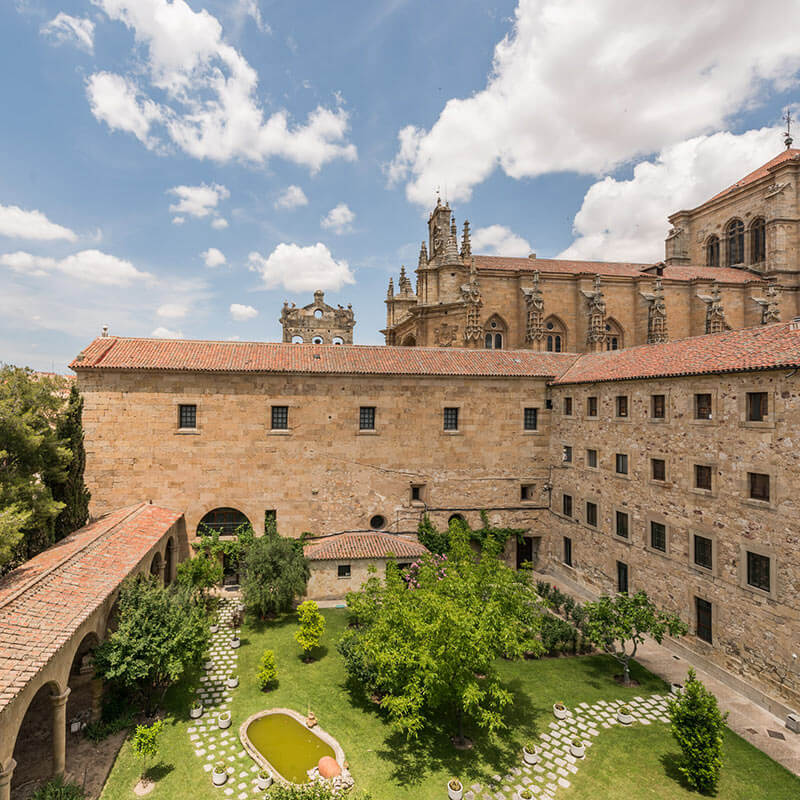 Hospes Palacio de San Esteban
Old convent in the heart of Salamanca. The hotel building used to be the old Dominican convent of San Esteban, located in the central square of Plaza del Concilio de Trento in the heart of Salamanca, with privileged views of the cathedrals. Its interior combines tradition and modernity and you can find traces of history in every single detail.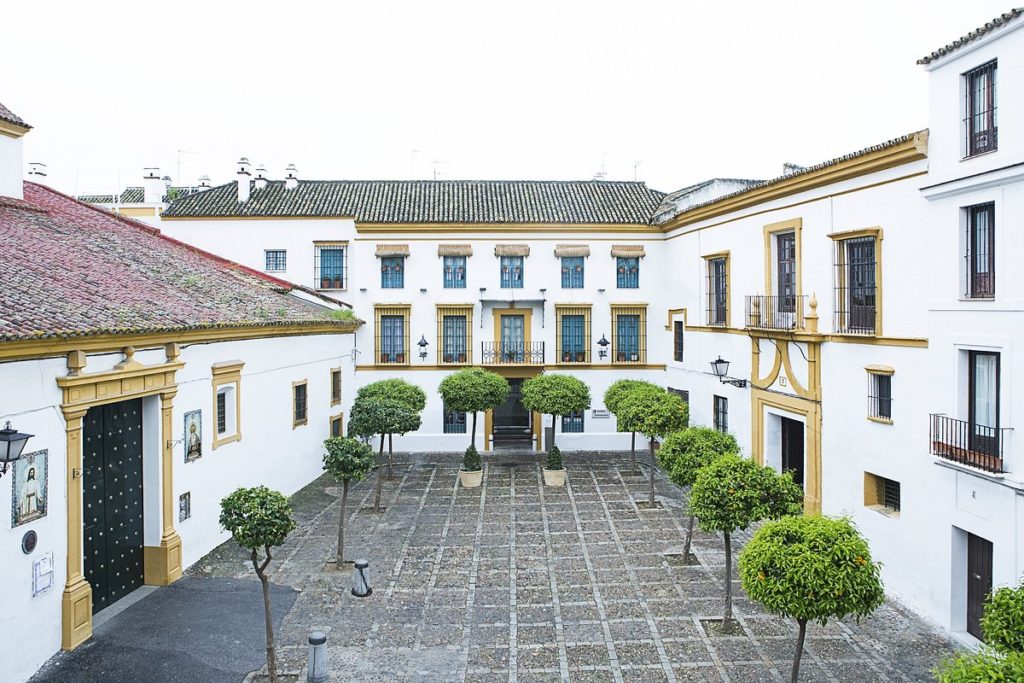 Hospes Las Casas del Rey de Baeza
Sevillian architecture: pure magic all day long. Located in the heart of Seville's old town, this traditional Sevillian architecture building used to be a local neighbors' courtyard in the 18th century. Today, it is an ideal setting for guests to relax, imagine and dream. Inside, the contrasts are everywhere and emotions run wild. The colors and the aromas of the central courtyard evoke activity and energy. The stone, clay, and chalk used in the building's construction give it a touch of authenticity and a high architectural and historical value.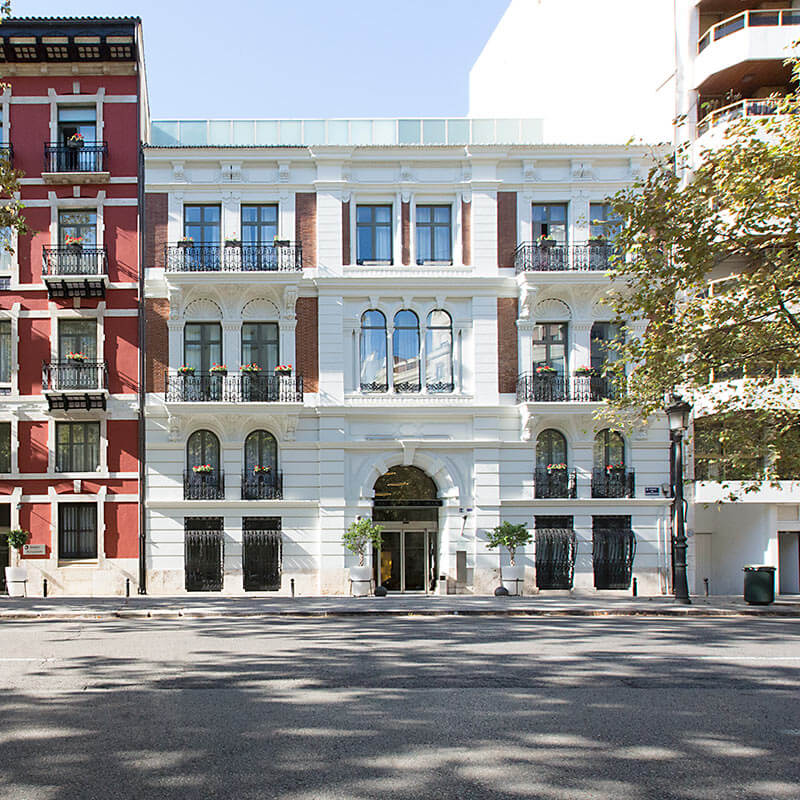 Hospes Palau de la Mar
Valencian stately home from the 19th century. This listed palace used to be a large stately home from the 19th century which embodies the city's maritime spirit and values. It is located in one of the most beautiful and centrally located streets in Valencia, where art and style come together and fill this original enclave with energy. Its fascinating history awaits us, so we can discover with great care and mystery something which is genuine and pure.
---
---
---
---
---
---
---
---
---